Accommodation, Campings dans les Pyrénées-Orientales
Add to my travel notebook
Register your touristic spot dans les Pyrénées-Orientales it's free (in French)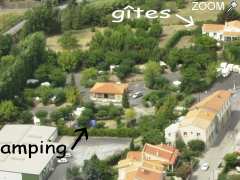 TVORG-9888
Update informations
low Season 10.4 €

high Season 10.6 €






Disponibilités
Hélène et J.Luc Schosseler
avenue du 16 août 1944
66220 Saint-Paul-de-Fenouillet (Pyrénées Orientales)
Phone : 04 68 59 09 09
- Fax : 09 58 77 80 55

http://www.camping-agly.com
Open all along the year.
In a quiet natural place at the side of the river AGLY.
Close to the village: shops, super market, doctors, …
In the heart of cathare country, near Tautavel and Belesta. Rambling, climbing, caving, rafting, canyoning, …
42 shady places.
TV room, barbecue, some games (table tennis, pétanque, …)
Equipped for handicapped persons.
In winter, some toilets and shower rooms are warmed.
Mobil homes and caravans for rent.
Near the camping site: holyday apartments.
Register your touristic spot dans les Pyrénées-Orientales it's free (in French)