Accommodation, Bed and Breakfast dans l'Hérault
Add to my travel notebook
Register your touristic spot dans l'Hérault it's free (in French)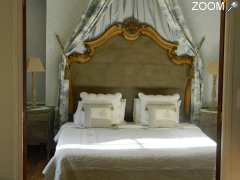 TVORG-708661
Update informations


Disponibilités
Babette BRUN
5 rue Massillon
34120 Pézenas (Hérault)

http://chambresdhoteslanguedoc.fr
Hôtel de Vigniamont is a truly remarkable and special place to stay in the beautiful and historic town of Pezenas in the heart of Languedoc Roussillon in the South of France.

Vigniamont is a unique place to stay, offering clients the small attention to detail and personal touches which will ensure your luxury stay with us is not just enjoyable but truly memorable.

Discover our inner courtyard with striking arches and sweeping stone staircase which leads to our luxury bed and breakfast guest suites and double rooms. All our accommodation offers en-suite facilities.

To ensure your stay at Hotel de Vigniamont is truly memorable, we include in your accommodation price a little bit more than you may expect!

Register your touristic spot dans l'Hérault it's free (in French)