Accommodation, Bed and Breakfast dans l'Hérault
Add to my travel notebook
Register your touristic spot dans l'Hérault it's free (in French)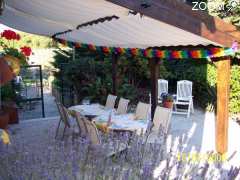 TVORG-11541
Update informations




Disponibilités
Mr et Mme Thoelen Freddy et Odette
2 Avenue de la gare
34600 Faugères (Hérault)
Phone : 04 67 97 22 43
- Mobile phone : 06 76 24 17 11

http://www.lucinkas.fr
Our beautifully renovated wine-house is situated in the middle of the wine region they call the 'Languedoc-Roussillon', and at the edge of the "natural reserve of the Haut-Languedoc". A short trip of less than 25 miles takes you to the beach of the Mediterranean see; or do rather like to sunbade at the borders of the huge lake on the 'Salagou'.
You can visit us in the village called 'Faugères', which is very well known for his exquisite wines and his marvellous surroundings. This is your ideal starting-point to visit the region, to enjoy the hospitality of the people and absorb the peace and tranquillity of the nature. By car, by bicycle, on foot,… any way you like; everything is possible.
And at the end of a splendid day of discovering and enjoying, you relax completely in our Mediterranean-styled bedrooms. We, as four lingual Belgian hosts, are there for you, to make sure you will enjoy your stay. Our B&B is open all of the year; and we can help you out in English, French, German or Dutch. Spitefully we cannot accept any pets. And it is not allowed to smoke inside the house.



Register your touristic spot dans l'Hérault it's free (in French)